The Big Picture
Participating Artist
The Big Picture: A Photography
Exhibition
in Celebration of the 20th Anniversary of the IDB Cultural Center. Photography from the permanent collection
From May 2 through October 31 2012 at the Gateway Gallery of

Dulles International Airport, Washington DC, USA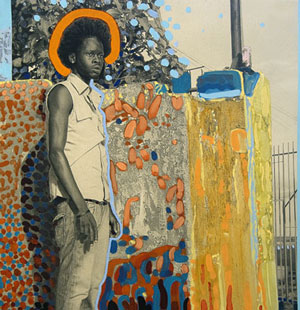 Gun Salute '09 ©

During six months, millions of travelers passing
through Dulles International Airport will be able
to visit a photographic exhibition organized by the
Cultural Center of the Inter-American Development
Bank (IDB) and the Metropolitan Washington
Airports Authority Arts Program.
The show, The Big Picture: A Photography
Exhibition in Celebration of the 20th Anniversary
of the IDB Cultural Center, will be open to the
public from May 2 through October 31, 2012 at the
Gateway Gallery, located in the connector walkway
between the Concourse C and the C Aero-Train
Station.

Comprising 44 striking images from the IDB's
permanent collection, as well as pieces previously
shown at other art events held by the Washington,
DC-based international finance institution, The
Big Picture highlights Latin America's and the
Caribbean's cultural wealth and diversity, as seen
through the lens of 22 leading contemporary
photographers from 13 countries.
"Through this exhibit, which is slated to be the most
visited show in the IDB Cultural Center's history,
Dulles International Airport will become a museum
of modern art for several months, giving countless
travelers an opportunity to become acquainted
with our peoples' colorful and expressive heritage, traditions and imagery," said Ivan Duque Marquez,
chief of the IDB's Culture, Creativity and Solidarity
Division.

The works, which stand out for their quality and
conceptual depth, were done using a variety of
techniques, styles and formats. Curated by Debra
Corrie, the exhibit includes photographs by
artists such as Luis Gonzalez Palma of Guatemala,
Sebastian Mello Salaberry of Costa Rica and Gerard
Hanson.

20 years promoting culture

The IDB Cultural Center's mission is promoting the
cultural patrimony of the institution's 48 member
countries and fostering cultural entrepreneurship in
Latin America and the Caribbean.
Since its creation in 1992 the Cultural Center has
held 101 art exhibits and 480 concerts, conferences,
book presentations and screening at the IDB's
Washington headquarters and in its member
countries. In 2010 Washington's Mayor recognized
the IDB Cultural Center with its Visionary Leadership
in the Arts award.

As part of its work to promote cultural projects, the
IDB Cultural Center has awarded more than 500
technical cooperation grants for projects seeking to
democratize access to culture in Latin America and
the Caribbean.