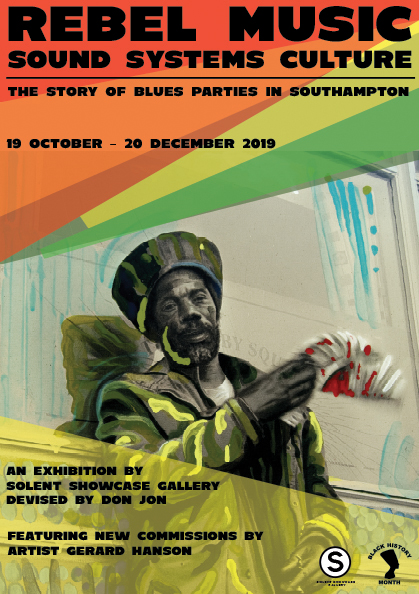 'Jiggy, Newby Square' 2011


Press Release

Devised by Don John and working in collaboration with artist Gerard Hanson, the Showcase Gallery is proud to present a new exhibition that explores the impact of Jamaican music on British culture. In particular, the exhibition tells the extraordinary story of the 'Shebeens' or 'Blues' clubs that were a key part of Southampton's music scene in the 70s and 80s. Bringing together new artwork, old images and found footage, the exhibition will creatively explore why these sound systems emerged in the city and what effect they had.
Visual artist Gerard Hanson will be creating new work especially for the exhibition, together with archive material and footage. People with memories to share are invited to contribute images or stories to help tell the Southampton story.
Special opening event: 18th October 6pm till late
Gallery preview 6pm
film screening of 'Bass Culture' by Mykaell Riley 7.30pm
Blues Party event in Belgium & Blues with MAKA Sound System 9pm onwards
About the artist:
Gerard Hanson was born in Bradford of Jamaican and Irish parents and much of his art explores his heritage and identity. Working with Don John, using oral history, archives and visiting sites of pubs and clubs long since closed, Gerard will be creatively exploring the reasons why the Shebeens came about and their impact on the city.
http://www.gerardhanson.com/
About the Shebeens:
In the 60s, 70s and 80s, West Indian communities, who were regularly denied entry to clubs in the city, organised their own entertainment by having "House Parties" where they could listen to music that they loved without the aggravation that they received in public places. Some House Parties developed into illegal drinking house that were also known as "Blues" and "Shebeens" and Sound Systems were an essential ingredient.
Sound Systems now occupy a unique place in the early history of migrants from the Caribbean who carved out a little piece of their history in an environment that was sometimes cold and hostile.
About the event on 18th October:
There will be a special opening of the exhibition at 6pm followed by a screening of renowned film by Mykaell Riley 'Bass Culture' that explores music from the 60s to the present day and the profound ways in which Jamaican music remade popular music in Britain.
http://basscultureduk.com/about/
After the film we will be entertained by MAKA Foundation - one of the original Sound Systems from Southampton at Belgium & Blues from 9pm till late. Belgium & Blues is situated close to the Showcase Gallery and is an independently run bar with great craft beers.
https://www.belgiumandblues.co.uk/
http://www.makasound.co.uk/
Showcase Gallery (access via Artisan Café)
Above Bar
Southampton, SO14 7NN
Open:
Tuesday – Saturday 11am – 4pm
FREE
'Duke & Chris Peckings' 2018

Description

Bass Culture 70/50: UK's largest ever Jamaican music exhibition highlights Windrush generation's impact on Britain
Marks 70 years since Windrush and 50 years of reggae
The largest collection of images linking the Windrush generation to grime
Features first ever catwalk inspired by Jamaican music and mini film festival
Free entry
Bass Culture 70/50 is a four-week exhibition exploring the impact of Jamaican and Jamaican-influenced music on British culture, taking place in London from 25 October.
The exhibition will feature previously unseen artwork, specially commissioned film, top industry speakers, UK reggae label pop-up showcases, live performances,10 years of Natty, and over 70 hours of individual testimonies, linking – for the first time – the memories and experiences of black British musicians, industry practitioners, academics and audiences.
There will also be an opportunity to witness two exhibition exclusives. The first, a 'Rude Boy Catwalk', invites attendees to come dressed as they were when they first experienced a gig influenced by Jamaican music, be it ska or reggae, jungle or grime. Taking place on 9 November, the collaborative catwalk will be the first of its kind to reflect on five decades of fashion inspired by these genres. The second will be a mini film festival that will premiere 'Bass Culture', a 60-minute documentary mapping the impact of Jamaican music from a youth perspective.
The exhibition is staged by Bass Culture Research, a three-year Arts and Humanities Research Council funded project set up to explore the impact of Jamaican music in the UK. The project made headlines last year after issuing The Grime Report, which led to the withdrawal of Form 696, a controversial risk assessment form criticised for being discriminatory and targeting genres such as grime.
While Jamaican music has been fundamental to the development of multicultural Britain, its influence has arguably never been recognised. Following recent moves to ramp up police stop and search powers, together with claims that Jamaican-influenced genres such as drill are fuelling gang wars, marginalisation and discrimination risks being on the rise again. Bass Culture 70/50 seeks to challenge these negative interpretations and rather recognise the impact of Jamaican culture on not only the musical canon but on British culture and identity itself.
Partners of the exhibition include the AHRC, Black Cultural Archives, British Library, SOAS, Goldsmiths University, Urbanimage and Camera Press.
Mykaell Riley, Principal Investigator and Director of the Bass Culture Music Unit at the University of Westminster, said "This is the story of the soundtrack to multiculturalism, a hidden history that is still impacting on new music."


'Haircut' 2011

Press Release

Jamaican Pulse opens at the RWA Bristol on June 25 and runs until September 11. The exhibition, co – curated by artists Kat Anderson and Graeme Mortimer Evelyn, is a UK first hosted by a City that spawned artists such as Banksy and Nick Walker, plus musicians and bands like Massive Attack, Portishead and Tricky.
Bristol is globally renowned for its approach to new and emerging art, culture, food and innovation. It's a City where 91 languages are spoken every day. It's as creative as it is diverse and this is a show that reflects that spirit, being both timely and welcomed by many across the UK. Arts Council England and the Jamaican High Commission support Jamaican Pulse.
Kicking off the Summer in true and unique Bristol Style, Jamaican Pulse takes it's place alongside the International Balloon Fiesta, Bristol Harbour Festival and the Massive Attack gig which between them will attract over 1 million people to the City.
More follows…..
Jamaican Pulse and the events that are happening in the wider community associated with the exhibition (see links) has something for everyone. Big names like Ebony G Patterson, Hurvin Anderson, Laura Facey, NT Collective, Barbara Walker and many more are exhibiting.
Co-Curator, Graeme Mortimer Evelyn is one of the UK Jamaican Diaspora artists exhibiting along with Barbara Walker, Gerard Hanson, Hurvin Anderson, Barka and NT. Graeme who is now based in London created a piece for Kensington Palace in 2013- 2014, called 'Call and Response – The Odyssey of the Moor' at the Queens State Apartments, Kensington Palace London. This was the first time ever that an artist was allowed to include an object from the Royal Collection in a contemporary piece of work.
Newly elected Mayor of Bristol, Marvin Rees said:
Newly elected Mayor of Bristol, Marvin Rees said: "Bristol is a vibrant and richly diverse city, making it a great host for this exhibition. I am very pleased that we're the first place outside of Jamaica to host Jamaican Pulse. I hope it will attract interest, generate conversation and enrich our understanding of Jamaican art and culture, along with its relevance to many Bristol people."
www.flickr.com/photos/rwapress/sets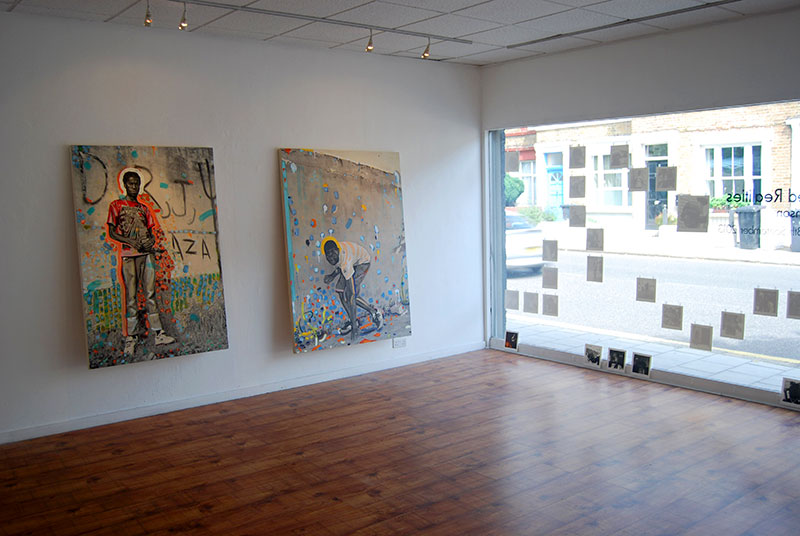 Photographs, by nature, create space between subject and object, and in that space old memories are preserved. Sometimes, however, the rules and functions of photography can be inverted so that new memories are produced.
Visiting his father's homeland, Gerard Hanson's encounter with 'Street Salons' leads to a fascination with the practice of weaving, hair straightening and wigs, which have become inherent to daily life in Jamaica. Taking as a starting point the questioning of his own identity, Gerard's quest is documented in a series of works, which he refers to as 'photo paintings': black and white photographs, printed on canvas and refashioned with colorful acrylic paint.
Through a personal series of photographic documentation during his stay there, Gerard interweaves with his own roots a view on a problematic cultural reality:an 'Eurocentric hair form' that has been 'embedded' in Jamaican culture. Interestingly - and perhaps, paradoxically – this concern comes from a Jamaican, born and raised in Europe. Documenting Jamaican lifestyle through photography in both Jamaica and the UK and altering that documentation with gentle marks can be seen as the artist's gesture towards resolving that paradox by embracing his own uprooting but without necessarily negating his own upbringing.
Gerard's technique organically merges past recollections with their reconstructions and in that synthesis it goes beyond standardized theories of race and identity as the result lies between polarized views: on the one side, the monotonous accounts of history and theory and, on the other, the colourful weaving of subjective expression.
Eleni Savvidou - Curator
'Street Salon II' 2011



Pictures from Paradise:
A Survey of Contemporary Caribbean Photography
seeks to examine the ways in which contemporary photography has evolved within the English-speaking Caribbean, rising beyond idyllic scenes to tackle more intricate issues. Within the past few years, regional artists working with the medium of fine art photography have provided increasingly searching images of the Caribbean and the people who inhabit it. In recognizing that the region is not the picture-perfect paradise of traditional depictions, these artists focus instead on what is not easily seen or that which is often ignored—the complex social, racial, political, and physical relationships and landscapes that exist within the Caribbean.

Pictures from Paradise features the work of 18 artists from seven Caribbean countries who vary in the ways in which they frame, stage, manipulate, use, and reuse images. Based on the 2012 book of the same name by Robert & Christopher Publishers, the exhibition is structured by four photographic genres: "The Documentary Image" celebrates the interrogative attitude of photographs; "Portraiture" challenges our understanding of the emotive subject; "Transformed Media" hails digital processes; and "Tableau Vivant" depicts constructed scenarios.

The works are presented within four adjoining shipping containers alongside Lake Ontario, inviting contemplation about issues of consumerism, globalization, tourism, migration, and the ever-present legacy of slavery in Caribbean history. Placing the works outside of the typical exhibition space of a gallery also signals a different type of storytelling, one that responds to, and moves beyond the limited narratives around a Caribbean "paradise." It explores Caribbean identity in a way that addresses the important question posed by Stuart Hall, the celebrated Jamaican/British cultural theorist: "If you are not that, who are you?"

Organized with Wedge Curatorial Projects
Presented in partnership with Robert & Christopher Publishers and The Power Plant Contemporary Art Gallery.
Supported by Canada Council of the Arts, the Ministry of Tourism, Trinidad & Tobago and Giant Container Services.

Curated by Melanie Archer, Mariel Brown and Kenneth Montague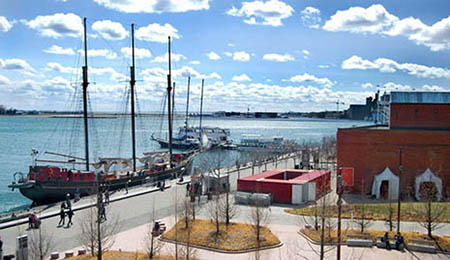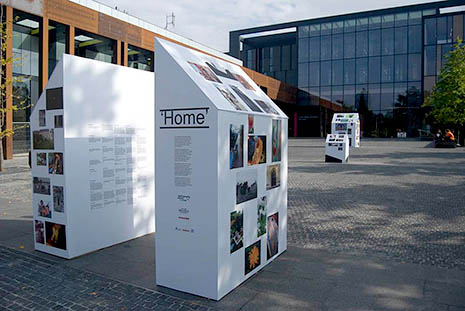 Subject: 'Home'
The introduction of this project requires careful wording as the very nature of the concept is to pose the question

'How do we interpret the idea of 'Home'?

And further to this initial concept, in what way can we represent the idea of 'Home' photographically?

Oxfordshire's demographic posits people from all over the world, so the idea of 'Home' for some will be sensitive and complicated. Our intention is to reveal these complexities through an engagement with the wider community using a series of workshops, press releases and online projects.

We aim to work with students at Brookes University to develop teaser material with local community organisations, which will explore the idea of 'Home'. This will generate debate, put forward many different interpretations and ultimately encourage a thoughtful and dynamic response to the subject.

In partnership with the local press, we will publish our work to encourage the general public to respond and send in their photographs, leading up to and culminating with an exhibition in September 2014 at Brookes University.